Faculty Teaching Awards
2020 CISGS Teaching Award Recipients:
Lorena V. Blinn Endowed Teaching Award – Stephen Thomas (CISGS)
James D. Hoeschele Endowed Teaching Award – Laura Markham (CISGS)
Ronald W. Wilson Endowed Teaching Award – Amanda Lorenz (Entomology)
Harlo Mork Graduate TA Excellence in Teaching Award – Max Helmberger (Entomology)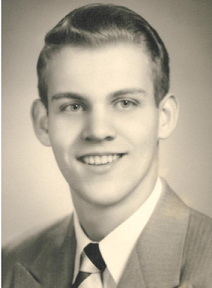 Harlo Mervyn Mork
Jul. 10, 1935 - Nov. 18, 1959
While working on his Master of Science degree at Michigan State, Harlo, a Grad student, was killed in an explosion when distilling Thiophene detonated in the Chemistry lab on the 3rd floor of North Kedzie. North Kedzie previously housed the Chemistry Department. This award is given in honor and memory of Harlo.
2019 CISGS Teaching Award Recipients:
Lorena V. Blinn Endowed Teaching Award – Joyce Parker (Earth & Environmental Sciences)
James D. Hoeschele Endowed Teaching Award – Cholani Weebadde (Plant & Soil Sciences)
Ronald W. Wilson Endowed Teaching Award – Andrea Bierema (CISGS/IBIO)
Harlo Mork Graduate TA Excellence in Teaching Award – Darren Incorvaia (IBIO)
2018 CISGS Teaching Award Recipients:
Lorena V. Blinn Endowed Teaching Award – Jane Rice (Earth & Environmental Sciences)
James D. Hoeschele Endowed Teaching Award – Danita Brandt (Earth & Environmental Sciences)
Ronald W. Wilson Endowed Teaching Award – Megan Donahue (Physics-Astronomy)
Harlo Mork Graduate TA Excellence in Teaching Award – Katelyn King (Fisheries and Wildlife)
2017 CISGS Teaching Award Recipients:
Lorena V. Blinn Endowed Teaching Award – Robert Drost (Earth & Environmental Sciences)
James D. Hoeschele Endowed Teaching Award – Julie Libarkin (Earth & Environmental Sciences)
Ronald W. Wilson Endowed Teaching Award – Sara Miller (Libraries)
Harlo Mork Graduate TA Excellence in Teaching Award – Kristin Poley (Entomology Agriculture & Natural Resources) & Mahdieh Tanha (Mechanical Engineering)
2016 CISGS Teaching Award Recipients:
Lorena V. Blinn Endowed Teaching Award – Jeanette McGuire (IBIO)
James D. Hoeschele Endowed Teaching Award – Osvaldo Hernandez (CISGS)
Ronald W. Wilson Endowed Teaching Award – Taylor Johnston (Plant, Soil, and Microbial Sciences)
Harlo Mork Graduate TA Excellence in Teaching Award – Austin Parish (Geological Sciences)
2015 CISGS Teaching Award Recipients:
Lorena V. Blinn Endowed Teaching Award – Matt Rowe (IBIO)
James D. Hoeschele Endowed Teaching Award – Saul Beceiro Novo (Physics and Astronomy
Ronald W. Wilson Endowed Teaching Award – Suzanne Thiem (Entomology)
Harlo Mork Graduate TA Excellence in Teaching Award – Knute Gundersen (Entomolgoy)
2014 CISGS Teaching Award Recipients:
Lorena V. Blinn Endowed Teaching Award – Ryan Kimbirauskas (CISGS)
James D. Hoeschele Endowed Teaching Award – April Cognato
Ronald W. Wilson Endowed Teaching Award – Merel Heidemann (CISGS)
Harlo Mork Graduate TA Excellence in Teaching Award – Amanda Lorenz (Entomology)
2013 CISGS Teaching Award Recipients:
Lorena V. Blinn Endowed Teaching Award – Susan Jackson (CISGS)
James D. Hoeschele Endowed Teaching Award – Ralph Taggart (CISGS)
Ronald W. Wilson Endowed Teaching Award – Remke Van Dam (Earth and Environmental Sciences)
2012 CISGS Teaching Award Recipients:
Lorena V. Blinn Endowed Teaching Award – John Mugg (Plant Biology Cns)
James D. Hoeschele Endowed Teaching Award – Jon Stoltzfus (Biochemistry & Molecular Biology Cns)
Ronald W. Wilson Endowed Teaching Award – Oscar Naviliat Cuncic (Nat'l Superconduction Cyclotron Lab)
2011 CISGS Teaching Award Recipients:
Lorena V. Blinn Endowed Teaching Award – Gabe Ording (CISGS)
James D. Hoeschele Endowed Teaching Award – Jen Owen (Fisheries and Wildlife)
Ronald W. Wilson Endowed Teaching Award – Suzanne Thiem (Entomology Agriculture and Natural Res.)
2010 CISGS Teaching Award Recipients:
Lorena V. Blinn Endowed Teaching Award – Brian Hampton
James D. Hoeschele Endowed Teaching Award – Stephen Thomas (Natural Science Dean/CISGS)
Ronald W. Wilson Endowed Teaching Award – Tammy Long (Plant Biology Cns.)
2009 CISGS Teaching Award Recipients:
Lorena V. Blinn Endowed Teaching Award – Jack Baldwin (Physics-Asronomy)
James D. Hoeschele Endowed Teaching Award – Kazuya Fujita (Earth and Environmental Sciences)
Ronald W. Wilson Endowed Teaching Award – Nestor Deocampo
2008 CISGS Teaching Award Recipients:
Lorena V. Blinn Endowed Teaching Award – Julie Libarkin (Earth and Environmental Sciences)
James D. Hoeschele Endowed Teaching Award – Rick Brandenburg
Ronald W. Wilson Endowed Teaching Award – Megan Donahue (Physics-astronomy)
2007 CISGS Teaching Award Recipients:
Lorena V. Blinn Endowed Teaching Award – Larry Besaw
James D. Hoeschele Endowed Teaching Award – Taylor Johnston (Plant Soil and Microbial Sciences)
Ronald W. Wilson Endowed Teaching Award – Diane Ebert-May (Plant Biology Cns.)
2006 CISGS Teaching Award Recipients:
Lorena V. Blinn Endowed Teaching Award – Todd Tarrant
James D. Hoeschele Endowed Teaching Award – Nestor Deocampo
Ronald W. Wilson Endowed Teaching Award – Gabe Ording (CISGS)
2005 CISGS Teaching Award Recipients:
Lorena V. Blinn Endowed Teaching Award – Mark Voit(Natural Science Dean)
James D. Hoeschele Endowed Teaching Award – Taylor Johnston (Plant Soil and Microbial Sciences)
Larry A. Krupka Teaching Excellence Award - Gary Weissman

Ronald W. Wilson Endowed Teaching Award – Ralph Taggart (CISGS)
2004 CISGS Teaching Award Recipients:
Lorena V. Blinn Endowed Teaching Award – Gabe Ording (CISGS)
James D. Hoeschele Endowed Teaching Award – Todd Tarrant
Larry A. Krupka Teaching Excellence Award - Robert Root-Bernstein (Physiology Natural Science)

Ronald W. Wilson Endowed Teaching Award – Lina Patino
1998 CISGS Teaching Award Recipients:
Lorena V. Blinn Endowed Teaching Award – Mukta Webber